£100m investment in Newcastle University campus development
Published on: 11 February 2016
Newcastle University is to benefit from a £100m loan from the European Investment Bank.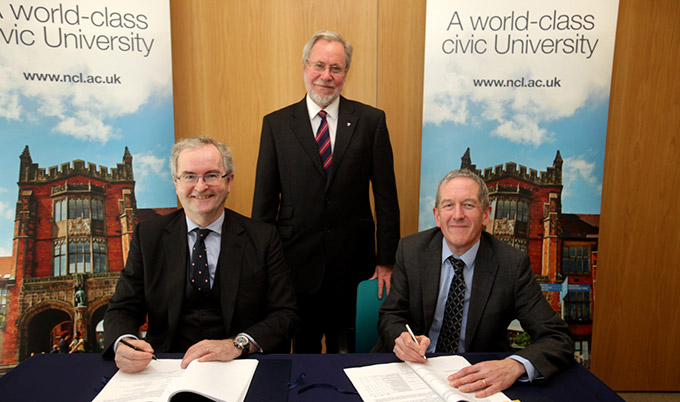 Ambitious plans for growth
Richard Dale, Executive Director of Finance at Newcastle University, said:
"Newcastle University continues to be a very popular destination for students and our world class research is part of that appeal.
"By enhancing and expanding our facilities for students alongside the development of cutting edge research buildings we will secure our future as one of the UK's leading universities.
"The EIB loan will help us to deliver these ambitious growth plans."
Plans for the £75.5m re-development of Richardson Road accommodation blocks were as approved in December and today's investment is crucial to the proposal, which will see the current facilities being replaced with six new blocks providing almost 1,300 ensuite bedrooms for future students.
Urban Sciences Building and Smart Grid
The agreement comes at the same time as EIB announced a £250m loan to upgrade and expand the Northern Powergrid infrastructure to enable smarter electricity distribution to 3.9million homes across the North East and Yorkshire.
Both announcements were made during a visit to Science Central by a delegation from the European Investment Bank.
Science Central, a partnership between Newcastle University and Newcastle City Council, is a £250 million flagship project bringing together academia, the public sector, communities, business and industry to create a global centre for urban innovation and sustainability in the heart of the city.
The new Urban Sciences Building, due to be completed in 2017, will house the University's School of Computing Science.
The development includes a low carbon energy centre, a £2 million grid connected energy storage test bed and a smart grid network. This will allow the development of new technologies for maximising efficiency, availability and sustainability of energy across the UK power grid.
The real world setting will allow Newcastle University and its partners in industry, including Northern Powergrid, to thoroughly test power networks for their reliability and sustainability.
Jonathan Taylor, European Investment Bank Vice President, said:
"Investment to improve teaching facilities and expand student facilities is crucial to enable UK universities to strengthen their local and global role.
"This new £100 million loan to Newcastle University demonstrates both the ambition and quality of their campus development plan and the European Investment Bank's firm commitment to support investment in leading universities across Europe.
"World class innovation, such as the smart grid research between the Institute for Sustainability and Northern Powergrid, will strengthen regional skills in the years to come. The European Investment Bank looks forward to backing similar impressive schemes elsewhere in the north-east in the future."
Louise Duffy, partner and head of the banking and restructuring team at Muckle LLP, added:
"Newcastle University has an exciting programme of development for the future and we were delighted to be part of this by providing legal advice in relation to the £100m funding from EIB.
"The continued success and growth of the University is important for the reputation and economy of the whole north east region.
"Our vision is to be the number one law firm in the north east for business and a vibrant local economy, boosted by the ability of the University to attract talented students from around the world and carry out world class research, is essential to us and to the business community in the area."
---
Latest News