Closing the gap in health inequality: pioneering simulation
People whose homes are less than eight miles apart are facing 11 years difference in how long they can expect to lead healthy and active lives before being hit by a serious disease or disability and a Newcastle team is to address this.
This stark finding will inform a pioneering simulation being led by a Newcastle University team.

Launching this unique simulation at the British Science Festival in Newcastle, the team will aim to discover which strategies reduce this gap in health inequality without increasing spending on public health or social care.

Health experts, academics, members of the Newcastle City Council Health and Wellbeing board, clinical commissioning groups and those from both industry and the voluntary sector, as well as people aged 55 and over, will take part in an intensive two-day exercise (Sept 27 and 28) to find new solutions.

The mission is "to reduce by 50% the gap in healthy life expectancy between social classes in the North East for people aged 55 in the next ten years".

Only 30 minutes apart but 11 years difference

While the North East of England is the prototype for the exercise, it will deliver a format that can be replayed in any other region of the UK or abroad.

Professor Tom Kirkwood, Director of Newcastle University's Initiative on Changing Age, explains: "In many UK cities such as London, Glasgow or Newcastle a short ride on public transport will carry you between areas where people have widely different expectations of healthy life. In Newcastle, for example, people living in Ponteland might expect 11 more healthy years than someone half-an-hour away on the Metro line in Byker."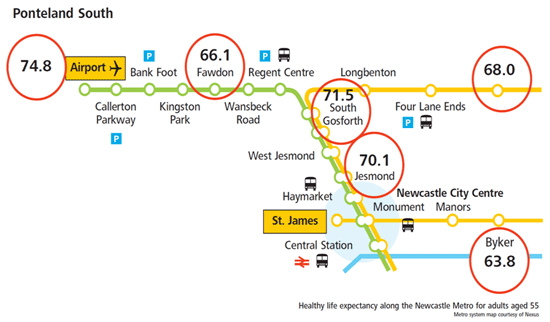 Chronic, age-related illnesses, such as heart disease, stroke, diabetes, arthritis and some cancers are all made more likely by underlying factors that reflect a combination of environment and lifestyle, including poor diet, lack of physical activity, smoking and alcohol. While socioeconomic differences are notoriously hard to address, the experts believe that opportunities for healthier living might significantly help to make a real difference

Professor Kirkwood continued: "It is urgent we find new ways to reduce inequalities in health across our region and elsewhere. We are living longer and we want the benefits to be shared by all, so that the extra years we are gaining are genuinely worth having.

"The simulation will allows us to bring fresh energy to finding new ways to tackle the unacceptable unfairness that currently exists in the length of time people can expect to live without debilitating health issues. The gains will be good for maintaining quality of life as well as for avoiding preventable high-cost dependency."
"radical solutions"

Professor Peter Gore, Newcastle University's Professor of Practice for Ageing and Vitality, who also runs a company delivering solutions for assisted living, added: "This is so much more than just an academic exercise. It is an exciting opportunity to try some radical solutions, and some not-so-radical ones, and produce a template for change that can be utilised by other authorities and scrutinised by central government.

"We need to reduce the widening gap in health inequality between social classes that is common to both advanced and emerging economies. It's not only a regional issue but a global one."

Simulations are an increasingly accepted way of tackling challenges in business and society but this is the first time this approach has been used to tackle health inequalities.

The simulation builds on the Newcastle Initiative on Changing Age which is the University's response to the societal challenge of ageing, seeking new ways to make the most of the extensive opportunities associated with increasing human longevity, while at the same time solving some of the problems.

This work was supported by the National Institute for Health Research, Newcastle Biomedical Research Centre in ageing and chronic disease based at Newcastle Hospitals NHS Foundation Trust and Newcastle University. The Biomedical Research Centre aims to translate advances in research in to patient benefit and improved healthcare for older people.

Newcastle University is hosting the British Science Festival from 7-12 September, with Northumbria University and Newcastle City Council as associate partners. The Festival is one of Europe's largest and longest-running public science events and will provide Newcastle with a unique opportunity to showcase its impressive scientific and technological credentials to the world.
Article about reaction to the pioneering simulation.
published on: 11 September 2013