App-movement: why programming is no longer the domain of the computer geek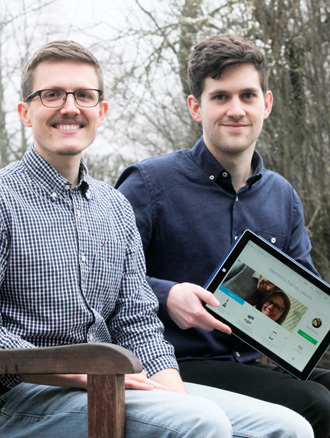 Anyone can create an app thanks to a new tool developed by computer experts at Newcastle University. And the service is already being used to create an app to find dementia friendly places.
'App Movement' turns computer programming on its head by allowing an idea or a 'need' to drive the development of an app rather than the other way around. And unlike most apps which gradually gather a groundswell of support after they are launched, App Movement needs the support first in order to get the project off the ground, much like the established crowdfunding platforms, such as Kick Starter.

Providing a step-by-step guide, the aim is that anyone with a good idea and the determination to drum up support for the project can get the app made and published on the Apple App Store and Google Play.

Andy Garbett, one of the developers of App Movement and a researcher in the Digital Interaction Research Group at Newcastle University, explains:
"The idea came about following the success of the Feed Finder app which we developed last year and allows new mothers to find the best breastfeeding locations nearby. Feed Finder now has more than 5,000 users and is being used across the UK and as far away as Australia, India and the US."

Edward Jenkins, lead developer of App Movement, adds:
"What we realised was that given the right tools, communities can drive their own app ideas which meet a real need but which are unlikely to have been developed otherwise."

Once an app has reached its support goal, it will enter the design phase where supporters can contribute ideas and vote on the app's features, such as the name, colour scheme and logo. The idea then moves to the final phase in which the app is automatically generated using the design features voted for by the community.

A number of ideas have already been posed. Being launched today is the new Dementia Friendly Places app which was proposed by Katie Brittain whose 95-year-old grandmother is living with dementia.

The 'Dementia Friendly Places' app is designed to allow people with dementia, their friends and loved ones to rate cafes, restaurants, shops and other public places and offer much-needed reassurance and support for people.

Other app ideas being explored by members of the public include finding dog friendly shops, gluten free restaurants and photography hotspots.

Dr Rob Comber, Lecturer in Computer Mediated Communication at Newcastle University's School of Computing Science, explains: "App Movement is a revolutionary concept in mobile app development that allows communities to commission their own apps and address issues at the grassroots level. This platform will enable civic action on the problems that matter most to local communities and increase access to mobile technology in the future."

Anyone with an idea for a mobile application can start an App Movement project via the app movement website.
Pictured: Researcher and 'app' developers Andy Garbett and Edward Jenkins
published on: 17 March 2015