Brewing success on tap for enterprising students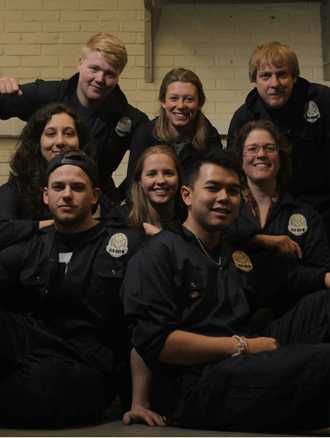 The first casks of ale from Europe's first student-run microbrewery are being rolled out at Newcastle University.
OverDraught is the first beer produced by Stu Brew – a sustainable microbrewery, managed by students for students through Newcastle University Students' Union. Over 800 pints of the 'hoppy' India Pale will be available at venues across the University campus, including MensBar and Newcastle EATS, and external pubs and bars such as Crow's Nest and Trent House.
The beer is being launched following focus groups and taster sessions with students, which helped refine OverDraught's recipe.
Anawat Tarr, Co-president of Stu Brew, said: "It's been a long and challenging journey to set up the brewery, obtain the licencing and gear up for production. But seeing the tangible results from the efforts of so many people is very gratifying.
"We are very thankful to everyone who helped us along the way: from experts in Chemical Engineering, such as Dr Chris O'Malley, who supervised and guided us in the process, through to the Rise Up team at Careers Service who supported us through branding sessions and marketing advice. Producing OverDraught wouldn't have been possible without hard work of all the students involved in Stu Brew."
Zelda Mendelowitz, Co-president of Stu Brew, adds: "We are very excited about the launch, and hope people will enjoy OverDraught. It has brought together over 200 students who have helped guide the microbrewery enterprise, develop recipes, brew and cask beers, and through market research and academic projects linked to the brewery."
Launched in August 2013, the student-run brewery became one of only 25 environmental and sustainability initiatives in the UK to have been given the go-ahead following a £269,341 funding through the National Union of Students' 'Student Green Fund'.
Stu Brew was set up as a Student Community Action Newcastle (SCAN) scheme, which has been supported to establish sustainability projects as a part of the National Union of Students (NUS) Student Green Fund. All sales profits will be invested back into training and development for students and overall long-term sustainability of the enterprise.
Red Kellie, SCAN Project Coordinator at Newcastle University Students' Union, said: "The positive reaction and interest in the brew are a reflection of the commitment of the student volunteers, and I wish them every success in their venture.
"Students are involved in every aspect of the business, from label design to sourcing great hops, and from online promotion to bottling up the finished product. They have conducted their own market research, secured trademarks and designed the labels themselves."
The student brewers received guidance and support from Rise Up, the Newcastle University Careers Service support programme for student and graduate entrepreneurs.
Marek Tokarski, Entrepreneurial Development Officer at Newcastle University Careers Service, said: "It's great to see the vision, hard work and persistence of the team involved with Stu Brew come to fruition. They've overcome a number of challenges and it's a significant achievement for them to launch such a novel business on campus. They have exciting times ahead as they implement plans to move the business forward."
Stu Brew has been established in partnership with the School of Chemical Engineering and Advanced Materials, and acts as a research unit for sustainable brewery design, seeking to become an example of good environmental practice in the brewing field. Many of the students work closely with academics from the school, while some of them are involved with the brewery as part of their academic studies.
The brewery operates a 2.5 barrel facility as well as 20L experimental kit for recipe design and small-scale brews. Designed with sustainability at its heart, hops are to be grown on the student allotments and the brewing process uses a very energy efficient hot water and cooling system which re-uses hot water to avoid more cold water having to be heated.
The student brewers send spent malt to Cockle Park, one of Newcastle University's farms, for use as pig feed and hops residue gets composted on the allotments. They are in the process of buying hops, to enable them to grow their own hops long-term.
In 2014, Stu Brew was part of an award-winning garden exhibited at the Chelsea Flower Show, highlighting a national Students Eats project which encourages students to grow their own produce and take on allotments.
View the photo gallery here.
Photo caption: Front row (l-r): Andy Thorpe, Anawat Tarr
Middle row (l-r): Zelda Mendelowitz, Naomi Gray, Red Kellie
Back row (l-r): Charlie Read, Harriet Thresh, Dr Chris O'Malley (School of Chemical Engineering & Advanced Materials)
published on: 6 March 2015