A Continuing Process
Published on: 2 August 2019
An artist has drawn inspiration from one of Newcastle University's Fine Art Department's most influential periods for her new exhibition.
Pioneering art
Harriet Sutcliffe is showing A Continuing Process at the Hatton Gallery. Her exhibition investigates the pioneering development of the Basic Design Course, devised and developed by the pioneering artists Richard Hamilton and Victor Pasmore in the 1950s and 1960s. The pair revolutionised art education in the UK, while they were teaching at Newcastle.
Using collage, drawing and sculpture inspired by found archival material, Harriet has sought to create a dialogue between past and present, demonstrating the course's continuing inspiration and relevance to current contemporary art and teaching practices.
"As an artist researching this area in the University's history, I have been inspired by both the innovative exhibition design of the period and also the approach to making," says Harriet. "Looking at how a drawing has been constructed, from the basic fundamentals of the dot and moving into the line, has made me revaluate the marks that I create in my own drawings and sculpture.
"I wanted this exhibition to inspire a new contemporary audience to re-evaluate this period in history by creating a contemporary installation referencing the teaching practice of the Basic Course."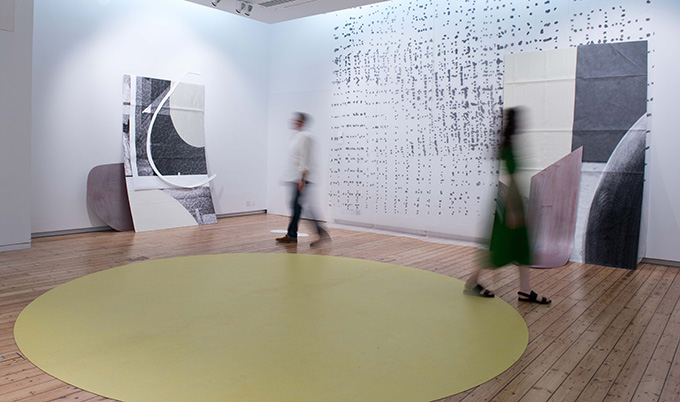 Progressive teaching
Harriet, who is studying for a PhD at the University, has drawn inspiration from the Hatton Gallery's archive, its progressive culture of display, and first-hand accounts from artists and alumni from this period.
Her work employs contemporary fine art practice-based strategies to respond to, investigate, and shed new light upon, and explore the hidden sculptural legacy of the Basic Course.
This year marks the centenary anniversary of the Bauhaus (1919). This revolutionary school influenced and transformed art education and art making in the western world and inspired Hamilton and Pasmore.
"The Basic Course was the start of a fundamental shift in direction of art education in this country," says Harriet. "It took a new approach to teaching whereby students were encouraged to analyse and think about what they were making, building from the fundamentals of dot, into line and shape with relation to both two and three dimensions. It was as much about learning to think as it was learning to make."
A Continuing Process is on display until 10 August.
---
Latest News