Inflammatory arthritis research centre receives funding boost
Published on: 21 August 2019
A national centre researching inflammatory arthritis will receive nearly £2m over five years to help improve understanding of the condition.
The research into Inflammatory Arthritis Centre Versus Arthritis (RACE) is a collaboration between the universities of Newcastle, Glasgow, Birmingham and Oxford.
RACE – which was first opened in 2014 by Olympic gold-winning rower Katherine Grainger and funded by Versus Arthritis – was established to find out more about the causes of rheumatoid arthritis, a serious, inflammatory, auto-immune condition that affects the joints leading to chronic pain and disability.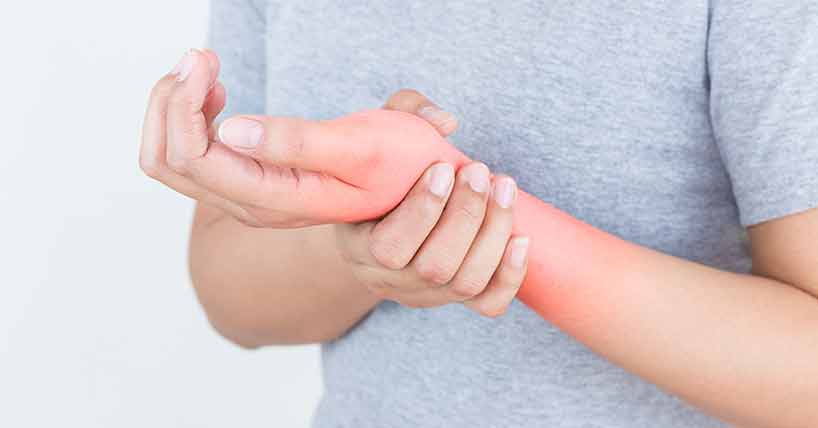 Centre's aim
The overall aim is for RACE to understand why rheumatoid arthritis establishes itself in the first place, and why the biological processes that cause rheumatoid arthritis vary between people.
The centre also wants to understand why some people respond to treatments only partially, or not at all. Researchers hope that this will eventually lead to treatments driven by precision medicine.
At Newcastle University, Professor John Isaacs is leading the region's part of the project with experts Dr Arthur Pratt, Dr Amy Anderson and Dr Catharien Hilkens.
Dr Pratt, Intermediate Clinical Fellow at Newcastle University's Faculty of Medical Sciences, said: "The management of rheumatoid arthritis has been revolutionised over the past 30 years by early, intensive and more effective treatments.
"Recently, Newcastle-led clinical projects that have already benefitted from the input of patients and researchers across our Centre's participating institutions include a large study investigating the disease processes that cause flares in patients with rheumatoid arthritis, and clinical trial of a new drug for the condition.
"At Newcastle University we are very excited to have the opportunity to build on this work, but we are very aware there is still a long way to go until patients can receive the optimal treatment for them, at the right time.
"New technologies are making this a realisable goal, to which RACE will actively contribute Furthermore, the learnings from RA now need to be extended to other types of inflammatory arthritis. The collaboration between colleagues in Newcastle, Glasgow, Birmingham and Oxford vastly increases the likelihood of success."
Rheumatoid arthritis
Rheumatoid arthritis occurs when the body's immune system attacks itself. Although drug treatments have considerably improved in the past 20 years, they are not effective in all people; and even with the best available drugs, many people's disease responds only partially, and sometimes not at all.
Professor Iain MacInnes, Director of Glasgow University's Institute of Infection, Immunity and Inflammation, is leading the overall study.
He said: "I am delighted to see the continuation of funding from Versus Arthritis for RACE. We believe our innovative collaborative approach has significantly advanced our understanding of rheumatoid arthritis.
"The work we do across all four universities aims to address the needs of the more than 430,000 people in the UK who are living with the pain and fatigue of this condition.
"We believe that the best way to do that is by working together seamlessly, to discover why and how the body's immune system attacks the joints, so we will one day achieve our shared goal of finding a cure for rheumatoid arthritis.
"Finally, in this new phase we will for the first time also target other forms of arthritis, especially psoriatic arthritis."
Focusing on improved treatments
RACE currently provides a globally-recognised national focus for scientific research in the field of rheumatoid arthritis and has made many important developments and translational insights in the fight against the disease.
This funding, for the second phase of RACE, will focus on translational and experimental medicine and clinical trials for the disease. An expanded four-centre PhD training programme will also be developed.
Angela Davies, Head of Research Liaison and Evaluation at Versus Arthritis, said: "The RACE centre has already made huge steps forward in our understanding of inflammatory arthritis.
"Over 430,000 people of all ages have rheumatoid arthritis in the UK, and the pain and fatigue they experience can have a huge impact on their physical, emotional and social well-being.
"This second term of funding will lead to more understanding and importantly better treatments for more people with arthritis."
---
Latest News