Gym
Set your personal goals – and smash them. Our aim is to create a great training experience and motivate you to achieve more.
Welcome to your gym experience
Our brand-new, cutting-edge gym opens 26 April 2021.
The spacious gym floor combines a large cardio area with a well-equipped free weights zone.
The gym is free to use for all Newcastle University students and staff until 31 May 2021. Initially equipment will be limited but you can keep upto date with additional equipment delivery dates on our update page.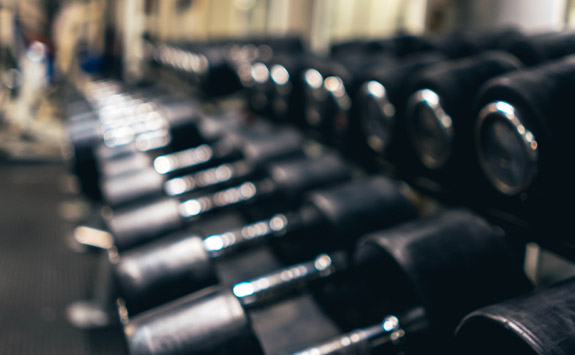 Gym session timetable
Currently, you need to book a slot to guarantee a space in the gym.
1-hour gym sessions are available at the following times:
Weekday time slots
Morning – 07.05 (70 minutes), 08.30, 09.45, 11.00
Afternoon – 12.15, 13.30, 14.45, 16.00
Evening – 17.15, 18.30, 19.45, 21.00
Weekend time slots
Morning – 09.00, 10.15, 11.30
Afternoon – 12.45, 14.00, 15.15, 16.30
Evening – 17.45, 19.00 - 21.00 (2 hrs)
Gym bookings
You can check availability and book your gym sessions, via our app, in person at the Sport and Fitness Centre reception, or over the phone on 0191 208 7225.
Our booking system will limit the numbers in our gym and make your workout experience safe and relaxed.
Top tips to get the most out of your gym experience
pre-booking your gym session is strongly recommended as this guarantees your spot
you can pre-book 1, 1-hour gym session per day
gym sessions can be booked 14 days in advance
gym sessions will be 60 minutes in duration and the gym will close for 15 minutes between each hourly session for cleaning
members who have not shown up for their workout 15 minutes after the beginning of their booking will be refused entry
swipe in with your smartcard at the entrance gates for Track and Trace and to avoid any no show charges
"Turn Up and Train Gym Entry" – You can work out without booking, but with capacity limits, you will only be allowed entry if there is space. A booking guarantees your spot. Check our app to see maximum capacity and the expected busy sessions. This will allow you to drop in at quieter times for additional gym sessions
Cancellations and no-show charges
If you can no longer make your gym session or just don't feel up to it, you can cancel your booking in advance (a minimum of 3 hours before your allotted time) without charge. Later cancellation will incur a £2 charge.

If you book a gym session but do not attend you will be charged a no show fee. To ensure that the number of 'no shows' is limited, our no show fee is £3.

Please cancel gym sessions in advance when unable to attend. This saves you being charged and gives another member an opportunity to train.

Be mindful when it comes to booking gym slots and only book if fully committed to train. That way we can stay on top of numbers and offer spaces to other members.
COVID-19: Play it Safe
Gym changes during COVID-19
We have put in a lot of additional safety measures to help keep you safe while using our facilities. These include:
reduced capacity (to ensure social distancing is maintained at all times)
pre-bookable gym sessions (book online, via our app or at sports reception)
increased cleaning stations, encouraging users to wipe down equipment before and after use
equipment laid out to avoid participants gathering at equipment racks
Find out more about how we're keeping you safe.
Gym user responsibility and etiquette
We've put a lot of changes in place, but for these to be most effective we all must do our part.
Aside from respecting the government's safety guidelines, we ask that members using our gym help with cleanliness and hygiene best practices by adhering to the following training etiquette:
if you feel unwell (fever/flu-like symptoms), please stay at home and stay safe
regularly wash your hands or use the hand sanitiser provided
please ensure to practice social distancing (2m) when in the gym
clean all equipment before and after use
keep your gym workout to a maximum of 1 hour
gym/sweat towels are not permitted – please use blue roll provided
we ask you to arrive no more than 5 minutes before your gym session (to limit crossover)
personal items – we highly suggest bringing only the necessities
water – we strongly urge you to bring your own water (there is no water available in the gym at present)
face masks – face coverings should be worn at all times except in activity spaces when exercising or when showering
follow our directional signage throughout the Sport and Fitness Centre
toilets, changing rooms, showers and lockers are available but we encourage all participants to come ready to train
Visit our COVID-19 page to learn more about the additional measures we have in place.
DFDS Fitness Challenge
Fitness Challenges run throughout the year in our fitness suite. They are open to all users of the facility.
The main prize for each challenge is a two-night city break to Amsterdam, courtesy of DFDS Seaways.
There are also a number of runners-up prizes. These include fitness assessments, sports massage sessions and fitness classes.
Our next challenge will be the Dri-Athlon Challenge, which starts on Monday 6 January 2020
the challenge ends on Sunday 15 March 2020
complete all 3 sections of our Dri-Athlon in one go, or over several visits
enter your details on the wall chart in the gym
complete each section as indicated on the chart – Row, Bike, Run
simply tick off the distance travelled once completed
you have 10 weeks to complete the challenge
everyone who completes the challenge enters into a prize draw on 18 March 2020
you can complete the challenge as many times as you like
the more times you complete the challenge, the more entries you have into the draw
the first drawn prize winner will win a trip for two to Amsterdam courtesy of DFDS Seaways
To enter the challenge, speak to a member of the Fitness Team.
Check out DFDS offers to Newcastle University Staff and Students.
We want your feedback
We hope you can see how committed we are to keeping you safe. We appreciate your patience, welcome your ideas and we would love to hear your feedback on how the new set of rules affect your gym experience.
If you want to get in touch about your gym experience, email: sport@ncl.ac.uk.
Our new gym
Our brand-new, 180-station gym opens after our refurbishment is complete. You'll find it in the North Wing.
Until February 2021, head for the Sports Hall North Wing, where there will be a temporary gym for you to work out in.
Designed with your goals in mind
Work out in our cutting-edge gym. Enjoy making progress with your fitness like never before.
Sweat it out with the latest gym equipment and dedicated training zones, including:
large free weights area
performance cardio zone with heart-rate connectivity
resistance zone with:


plate loaded and pin select strength equipment
nine lifting platforms

custom-built athletic rig and sled track
functional training zone
Our gym boasts high-spec equipment from Technogym. They feature inbuilt programmes to help you personalise every workout.
Technogym makes it simple for you to track your performance and adapt your workouts on the fly. This ensures you make the best possible progress for the time you put in.
Strength and conditioning suite
The all-new, high performance strength and conditioning suite opens after our refurbishment is complete. You'll find it in the North Wing.
Until February 2021, head for the Sports Hall North Wing. Our existing strength and conditioning suite remains open. You'll be able to access it through the pop-up gym.
Reach peak performance in the ultimate training space
Calling all student athletes. Train your body to perfection in our brand new strength and conditioning Suite.
It's now three times bigger than before, and with wheelchair access.
The new suite allows more high-performing sportspeople to take advantage of Strength and Conditioning.
Come and test your mettle with our performance sports equipment and technology, including:
dedicated lifting areas
running track/plyometric area
cardiovascular area
full range of dumbbells
throwing wall
pulley machines
Our expert coaches take you through tailored training, periodised to your sport. They help you reach your full potential.